Rio de Janeiro Aqui - Travel and Visit Rio, Attractions, Hotels, Events and Culture
Rio de Janeiro City is known as "The Wonderful City" due to its unique and breathtaking nature beauties, for its history and cultural life, and for the hospitality of its gentle people. In this private website, you can read personal views and pictures about its attractions, things to do and sights to see in Rio de Janeiro.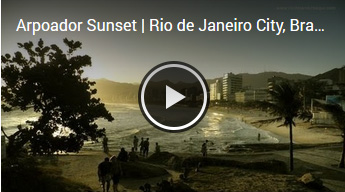 Cool 2 minutes video on Arpoador Sunset in Rio
Corcovado mountain has a railway that goes through the jungle of Tijuca National Park and takes you to the top of the mountain where you have a magnificient view to the city [...]
Sugar Loaf and its cable cars that takes you to the top of two mountains It is a must along with Corcovado. Once you get there you have wonderful and unforgetable views of the city.
Their colorful names, natural peculiarities and magnetic beauty give the Rio de Janeiro Beaches the charm that call the attention of tourists and enchant everyone [...]
There are very attractive places to visit in Copacabana. In the first place, certainly, it comes the beach where you can sunbath during the day and go for a walk along the sidewalk in the evening or in the night [...]
It would be very difficult or even impossible to enumerate all the natural beauties, main tourist attractions and local points to visit when one are in Rio de Janeiro. Here are some places that is worth a visit [...]
Rio is a great place to base yourself for a trip to Brasil and Rio de Janeiro State. Not only because there is so much to do in the city but also because you are well-positioned for some great days out around Rio de Janeiro State [...]
Rio can be looked at from all sides, from the ground, from the sky and from the sea, by every means, even on the Web. The spectacle of nature is wondeful. If you have not seen it with your own eyes, you do not know what you have been missing [...]
Rio de Janeiro City has on its shore one of the most beatiful and famous bay on the world, Guanabara Bay. It has always fascinated travelers for its exuberant beauty [...]
For those who love nature tourism and ecotourism, there is a huge tropical forrest in the middle of Rio the Janeiro City, with waterfalls, pictoresque winding paved roads, trails, animals and a vast range of birds species, colorful butterflies and some historic attractions [...]
Rio de Janeiro City is not only associated with the beaches and sea, but also with the green parks, mountains and green landscapes. In the parks or Rio you can see beatiful gardens, enjoy picnic areas, bicycle tracks and find trails, leisure equipment and sports activities [...]
Islands on Its coast are amongst Rio attractions. In the Rio de Janeiro islands flora and fauna can be found as well as places for sightseeing, walking, scuba diving, underwater fishing and wounderful boat day trips [...]
Rio Fireworks is amongst the largest fireworks in the world, lasting more than 15-minutes, when thousands of people gather on the sands of Copacabana beach to see the spectacle that lights the sky [...]
The carnival of Rio de Janeiro is the most famous of Brazil and the most well known internationally. A great party, that involves carnival revellers taking part in the most diverse manifestations, such as samba school parades at sambodrome, street carnival, and carnival balls throughout the city [...]
Sights to See and Things to do in Rio | Tourist Attractions
From its most famous icons of Corcovado and Christy The Reedmeer Statue to Sugar Loaf Mountain, the City takes pride in its unrivaled attractions such us the magnificient Maracana Stadium and Its Carnival Feast and beautiful beachs.
Rio Carnival is the biggest feast in the world. In the year of 2009 around 700000 people came to Rio for Carnival.
Another official event that attracts thousands of people to the City It is theRio New Year´s Eve Fireworks which takes place on the sands of Copacabana Beach. Rio Fireworks is amongst the largest fireworks in the world, lasting more than 15-minutes
Rio has a rich cultural life and a large variety of sites, shops, and restaurants that reflect the City's cultural diversity.
Famous throughout the world, Copacabana Beach is a melting pot and has not only the beach as its main attraction, but other sites to visit, such as historic forts and its 6 kilometers sidewalk where there is always something going on and you can see people jogging, drinking and hanging out at kiosks.
Amongst Its unique attractions, there is a entire tropical forrest among Rio the Janeiro City with lots of wild and some historic attractions. Tijuca National Park or Floresta da Tijuca is the world's largest urban forest.
Rio has unique neighborhoods which are treasures of its own such us Jardim Botânico and Its Botanical Garden which is considered an ecological sanctuary and one of the the most important in the World. Right in front the Botanic Garden there is the Jockey Club do Brasil with its beautiful archtecture and beautiful track with a great view of the mountains and Corcovado.
The picturesque Santa Tereza Distric stands on a high part of the city and has a streetcar to get there crossing an historic viaduct namd Arcos da Lapa. This viaduct is a kind of "gate" to Lapa Distric, another old Distiric which has became very lively in the night and where bohemian people go for its lively scene in the bars, some bars with live music and restaurants around.
Rio has five lagoons and beautiful coves. The most famous lagoon in Rio gives name to Lagoa Distric which is a nighbourhood around the Rodrigo de Freitas Lagoon. The lagoon is surrounded by upscaled buildings along the avenues that circle about lagoon banks. Alongside the banks there are lazer areas with great views where the locals goes for a jogging, biking or just to walk around.
City Center or Downtown has lots of historic buildings from the colonial times integrated with modern architecture and skycrappers. The Cinelândia Square is the most popular square in Rio with its lively bars. Praça XV (or 15 Square) has some historic builings and some narrow alleys from the colonial times such as Arco do Teles.
Rio has some distinguishing musems because they are integrated with nature and situated in places where you can get fantastic views of the sea cost or the mountains or the woods and gardens that surrounds them. It is impossible to mention everthing, so It is listed here only some such as Fiscal Island and Its Neo Gothic Palace which was the place where the Monarchy took its last bow. Quinta da Boa Vista Park and Gardens is a huge park with beautiful landscapes and a neoclassic building, The Imperial Palace of São Cristovão, that used to be the residence of the royal family before the Republic was proclaimed. The building that once it was a palace, today houses the National Museum of Natural History (Museu Nacional). Rio Zoo is also part of the huge park.
The Rio Moderm Art Museum, at Flamengo Park has a view to Guanabara Bay and on the other side of the same bay there is Niteroi Art Museum which has great views to the sea. Rui Barbosa´s House Museum and Catete Palace Museum has beautiful gardens with lawn and trees. Nearby Rio de Janeiro city there attractive cities and places to go. You can go on a day trip to the Tropical Islands on a schooner, or visit the picturesc Petrópolis City on the high land of Rio de Janeiro State. In the north cost of the state, known as "sun cost", there are Buzios and Cabo Frio Cities. The lures are its beaches and sea cost views. In the south cost of the state, known as "green cost" it is located Angra dos Reis and Paraty, a small town and a great colonial relic, well preserved and achitecturally unique.
Some sites to go are listed inside this website. So, It is up to you to visit them and discover more places that are not listed in this site.